"The Chain Reaction Sound System is very good" Eddie Izzard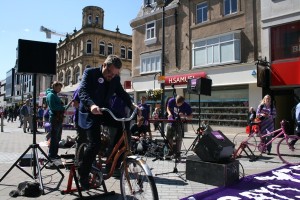 "The future of sound system has arrived, inspirational!" Paul lush, Nucleus Roots
"The Chain Reaction stage at Alchemy was Fantastic – Tom and Steady worked hard and made the area into something special! The sound was great and people are still talking about the stage. I would like to book them again." Toby, Alchemy Festival 2011

"We at the Sheffield Bike Festival hired the Chain Reaction Pedal-Powered Sound system for our main stage in 2010. The lads were totally professional, arriving on time and being ready to start when we needed. The sound was brilliant and clear, handled the wide range of styles we had programmed for the day, from reggae DJs to 7-piece funk bands and prog-rock groups. The bicycle powering of the sound system was fantastic and created a far more interactive atmosphere than we could have hoped, as well as doing wonders for our aim of promoting the bike as a means of transport – and power!! Chain Reaction could hold its own against any mains-powered sound system!"    Olly Galvin-event organizer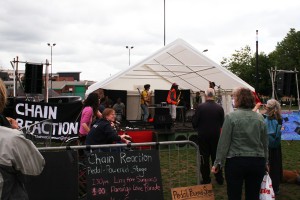 "Chain Reaction powered sound for an area at last years Unity Day, a community event in Leeds which attracts around 10,000 people. Their area was great and the sound was amazing. As an organiser of the event I was really pleased to see a truly sustainably powered high quality sound gracing the air waves! It really made people feel involved in the music and therefore the event. I would thoroughly recommend it to everyone!" Pete Tatham- Hyde Park Unity Day.
"I wish every generator hired by Hyde Park Unity Day gave the same service and satisfaction as the Chain Reaction system. Good powerful clean fun that educated one and all that saw it in action." Amit Roy- Hyde Park Unity Day
" THE BIKE IDEA FOR OUR FESTIVAL WAS A POTENTIAL RISK, WE DIDN'T KNOW IF THE POWER WOULD BE ENOUGH THROUGHOUT.
WE TOOK THE RISK AS WE BELIEVE IT'S A WAY FORWARD
IT WAS A GREAT SUCCESS.  I AM A CONFIRMED BELIEVER AND WOULD RECOMMEND OTHER FESTIVAL PROMOTERS TOOK THE RISK, BECAUSE ITS NOT, IN FACT A RISK AT ALL.
WE NOW LOOK AT THIS AS AN ATTRACTIVE AND CUSTOMER INDUCED PART OF OUR FESTIVAL "  Mike Stephens- Artists 2 events / The Acoustic Festival of Britain